A neglected attic has come to life in a listed 1835 building near Vienna's Ringstrasse. Age notwithstanding, the loadbearing parts allowed for a surprisingly open plan. And with a slight change to the roof's pitch, areas otherwise too low became suitable for living. The result was a protracted, unencumbered space that spans the entire Southwest side.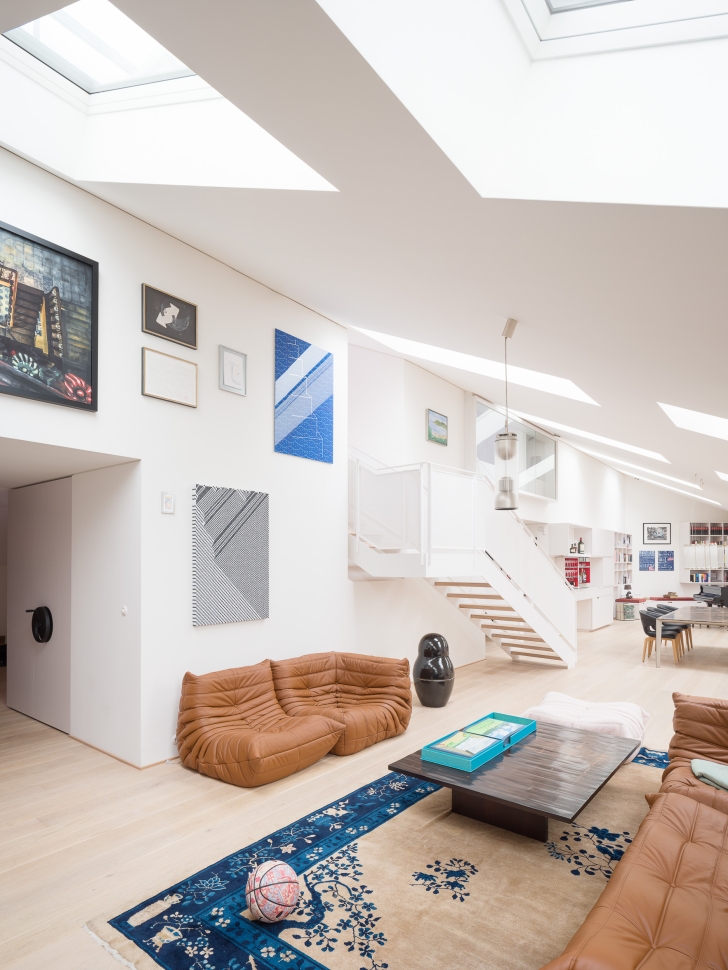 This sunlit nave houses the library, music space, dining table, and living and TV areas. The more intimate zones are afforded their due privacy in the mezzanine and South-facing section, so that the apartment feels like a less unbuttoned form of loft. A little more urbane. Yet in an attempt to remain ephemeral, the architecture is dispensed with the responsibility to employ traditional walls. And the task of making rooms devolves to the carpenter. 
So the entrance to the laundry room is through one of the kitchen cabinets that happens to be a thoroughfare. Turn a handle in the hall and whole shelf opens up, revealing a conduit to the home- office. A triangle of top-lit polycarbonate secretly contains the guest toilet. And a carefully designed bar means glasses won't topple when the whole cabinet is pivoted and disappeared from view.
These Narniesque sleighs-of-hand are not peripheral details, but part of daily life. Coming in contact with them recalls the interiors of a train. 
Curtains that are not unshy lend paucities of chromatic mischief to the predominantly white apartment. The pink cabinets in the kitchen are weighed against the dominant cerulean blue and Corian tops. From there one glimpses the taut lines of the staircase with its railing made of perforated steel, which has the vocation for projecting lightness. The aim is softness, executed with precision.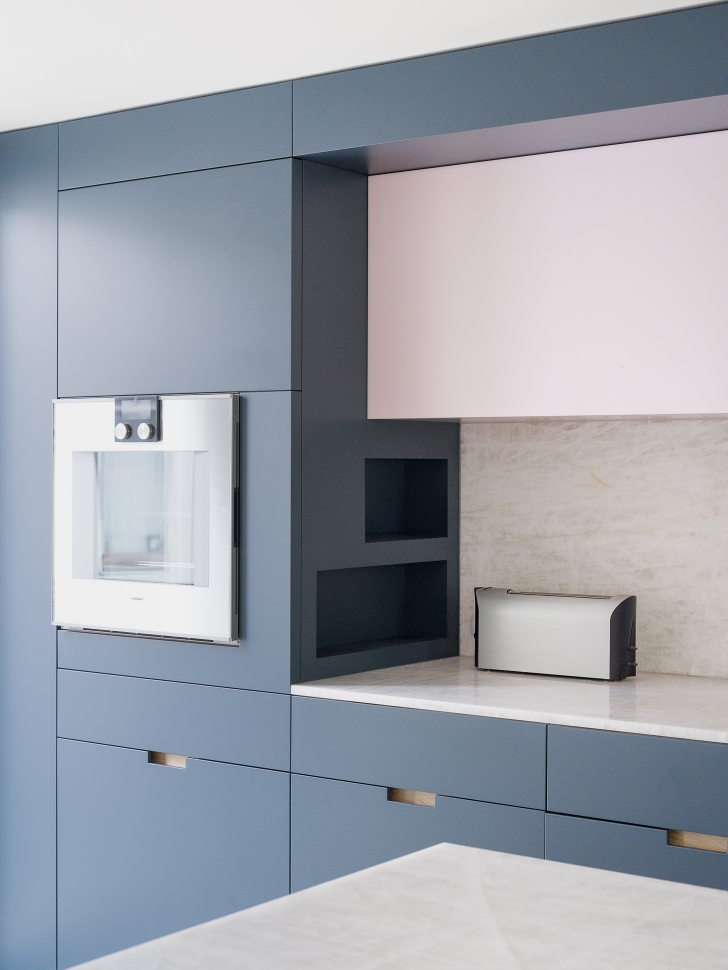 Thus a layer of unfired clay bricks lines the entire ceiling. Grooves cut into them permit pipes with hot or cold water to run through. Clay increases insulation and lowers the apartment's carbon footprint. And the painstaking efforts to install a geothermal heat pump in a protected area dispensed with the necessity of air conditioning. 
Skylights have been fitted with electrochromic glass that automatically tints to reduce UV rays, heat and glare, while mindful spatial distribution activates cross ventilation between the street and courtyard-facing windows.